Clash of Clans Spring 2020 update preview: Quality of life improvements
Continuing to preview the upcoming Spring 2020 update for Clash of Clans, Supercell has revealed incoming quality of life improvements.
As promised, Supercell Games provided a rundown today of the quality of life improvements coming with to Clash of Clans with the Spring 2020 update. It's not a huge list but the incoming changes definitely check off many of the long-requested features.
The most notable improvement is a new option in the troop request menu that "will allow you to request only the specific Troops you would like in your Clan Castle." This was met by universal praise by just about everyone on the Supercell forums. This change should end XP farming by Req and Go clans as well as spam donations.
On the same note, another change is being made to Clan Castle Troops:
Clan Castle Troops will now deploy in a specific order!
Lowest housing space first
Finally by lowest level first
This should reduce the randomness of attacks which, overall, is a good change when it comes to competitive games. It's unclear if this will also apply to defense. As for the priority between goblins and archers, Supercell's Darian explained it will "sort by some background ID information."
The update will also redesign the Hero Skin UI, making it easier to sort through and manage your Hero Skins. A Hero Preview window will also be added under your Village Profile tab.
When claiming rewards from Clan Games, if you do not have enough storage space for the claimed item you will be given the option to select Gems instead. The number of Gems received is based on the normal price the specific item sells for.
This is another issue that fans have been clamoring for Supercell to address.
The Clan War Leagues screen in the Champions leagues will be inaccessible to any members without a role and who are not included in the Clan's League roster. This is to prevent or minimize opposing Clans infiltrating or spying on their rivals by joining the opponents' Clans.
Wow, talk about an unexpected tweak. This will greatly increase the competitive nature of Clan War Leagues and will truly emphasize skill in the Champions leagues. The only question is why not implement this in Masters or Crystal? I think they could expand this to other leagues; it's not like they lack competitive play as well.
There are a few other subtle quality of life improvements listed over in the preview, but the topic of conversation in the forums quickly shifted to what looks like a possible new troop. In the image showcasing the new troop request menu, there appears to be artwork of a new troop.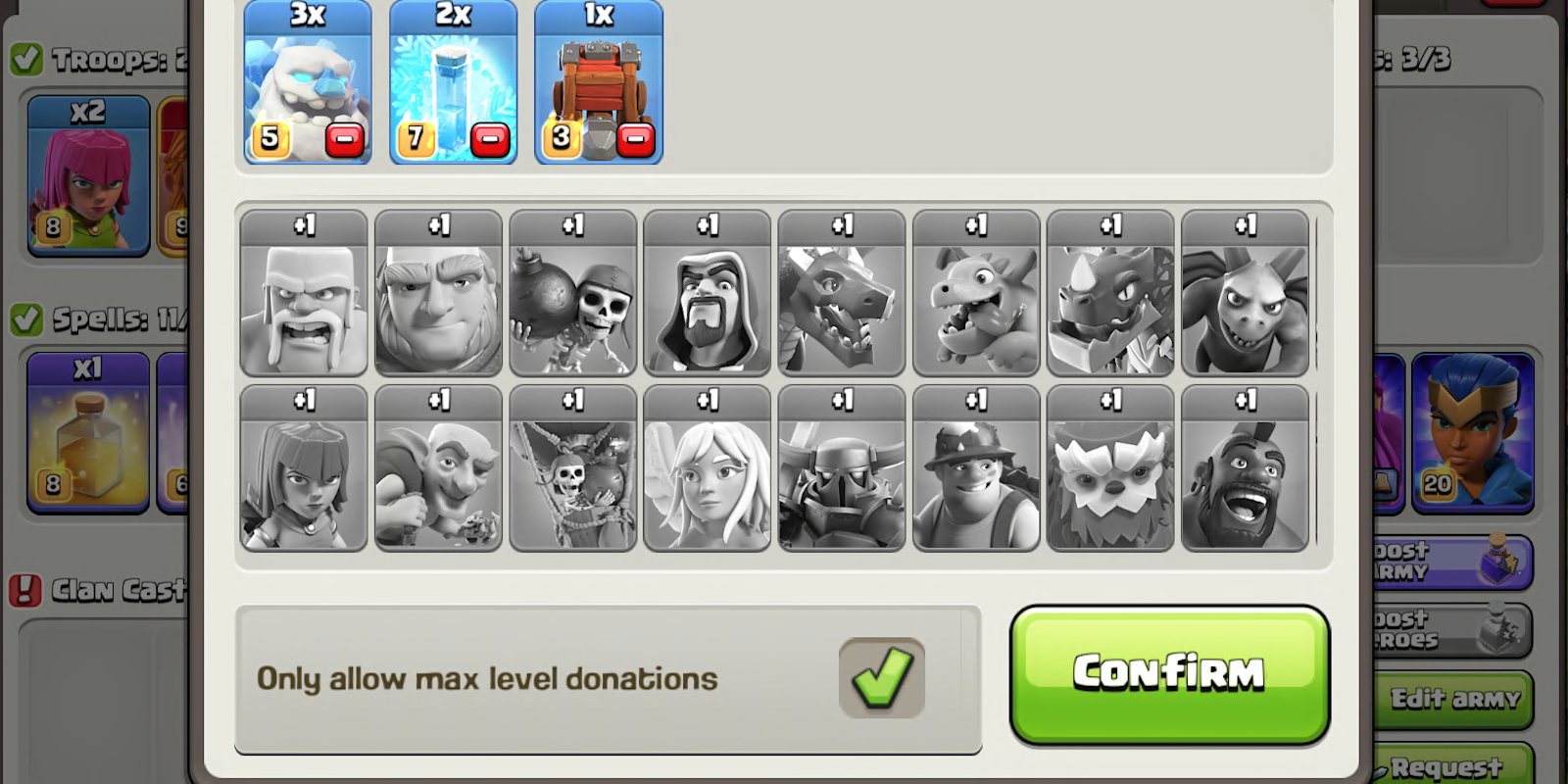 If you look closely behind the main image next to the archer, you'll see what looks like a new troop, although some believe it's the Valkyrie.
The Valkyrie level 8 is going to be at Town Hall 13 following the update, and if you notice, this is level 9. There's also a gold box around the image. Players have noticed the last update posts have contained the word "SUPER" in them, prompting speculation that this could be a "super" Valkyrie or a special gold star skin borrowed from Clash Royale.
I guess we can consider this image the first true sneak peek teaser. It's likely that the official sneak peeks will begin this week. So far, the previews from Supercell have revealed changes to Builder Base, new troop and building levels, and a reduction in upgrade price for certain units. While these were all welcomed (except for maybe the Builder Base tiebreaker), what we really want to see are the big features planned for this update. Hopefully, we find out soon.