PS Plus offers three free games in July for 10th Anniversary
Sony is celebrating 10 years of PS Plus with three free games in July 2020.
I don't know about you but I sure felt old when I read the PlayStation Blog post today celebrating the 10th anniversary of PlayStation Plus. Sony's online PlayStation service turned 10 today after launching on June 29, 2010. PS Plus has come a long way since and just to show you, Sony has released a special infographic that highlights some notable stats.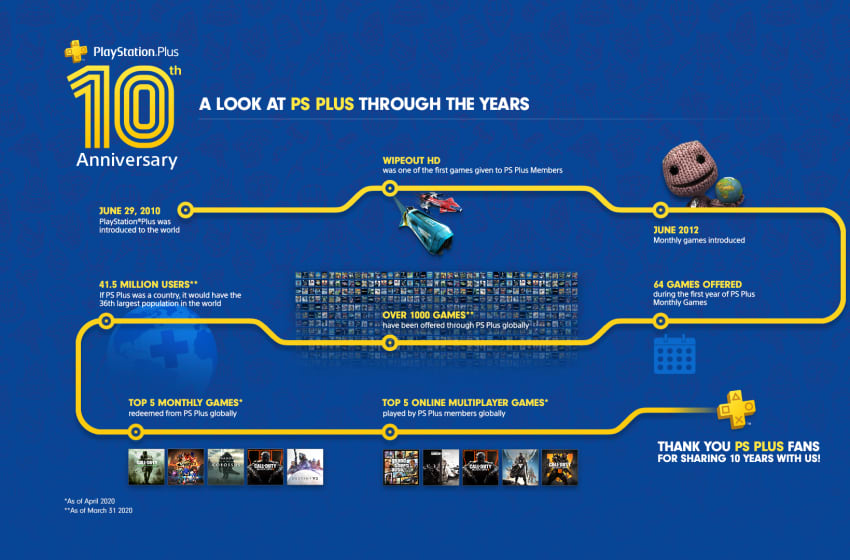 If you enjoyed these fun stats, just take a stroll down memory lane to E3 2010 when SCEA CEO and President Jack Tretton officially debuted PlayStation Plus. And if you really want to have some fun, check out the PlayStation Blog post that detailed PS Plus.
It's pretty fascinating to go back and watch how PS Plus evolved over the years. Some of you might not remember that the service didn't originally include free monthly games. That perk didn't arrive until 2012.
64 were offered for free in the first year of PS Plus but in its lifespan over 1,000 games have been given away globally to PS Plus members for free. Currently, Sony gives away at least two free PS4 games per month, having dropped PS3 and PS Vita from its monthly games lineup back in February 2018. With the PS5 on the horizon, it'll be interesting to see the next evolution of PlayStation Plus.
In the meantime, we are about to get another batch of free games for July. NBA 2K20 and Rise of the Tomb Raider: 20 Year Celebration are the two big blockbusters being given away for free next month. They'll be joined by a third bonus game, Erica, a choose your own adventure feature-length cinematic experience.
Additionally, Sony will be celebrating PS Plus's 10 Year Anniversary with a special PS4 theme that will be available later this week. The theme will only be available for a limited time so be sure to grab it while you can.