Disney Sorcerer's Arena releases on iOS and Android
Glu Mobile released the turn-based, RPG, character collector mobile game featuring Disney and Pixar characters, Disney Sorcerer's Arena, on mobile this week.
Sad about Disney theme parks and resorts being closed along with the rest of the world during a time of social distancing? Glu Mobile might've made Disney fans stay inside a little easier with the release of Disney Sorcerer's Arena on iOS and Android. Featuring characters from Disney and Pixar movies and TV shows (from Steamboat Mickey to Onward), Disney Sorcerer's Arena has players collecting character shards to unlock them as they battle across hero and villain campaigns, PVP arenas and endurance towers.
Combat has changed a lot since Disney Sorcerer's Arena was first released in other countries what seems like ages ago. What used to be a real-time battle system using attacks with energy costs has morphed into a 5-person, 2-spell turn-based battler that plays a lot like other games of its ilk — Galaxy of Heroes, Marvel Strike Force and most recently LEGO Legacy.
While the original subreddit for the game is dead (I'm going to assume some of the player base didn't like the change), I welcome the change. People can claim that there are tons of games that play like Disney Sorcerer's Arena, but there are also a ton of games that utilize an energy system and cards being played. It all comes down to preference.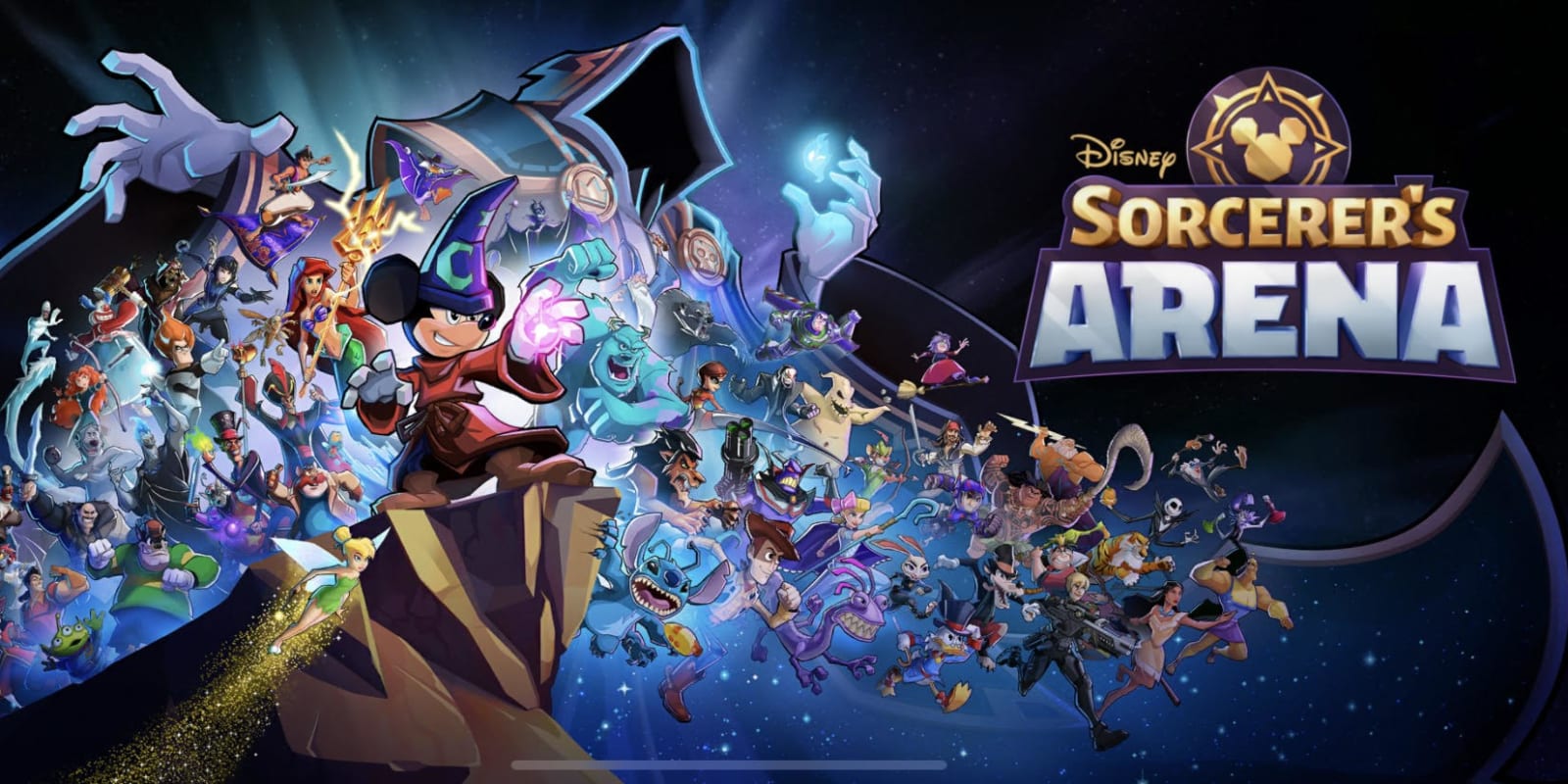 Disney Sorcerer's Arena
There are tons of characters, enemies and environments, as the game is updated to reflect the last releases. That said, you won't find any Marvel or Star Wars characters in here… they have their own games. My main team features Aladdin, Darkwing Duck, Sorcerer Mickey, Gaston and Ariel. Though I do sub in Dr. Facilier, Kronk, Shere Khan, Buzz Lightyear, Merida, Jack Skellington and Demona (yes from Gargoyles!) depending on what I'm facing.
The newest event brought Mulan and Onward characters to the game. Players can now collect Ian, Barley and The Manticore from the latest Pixar film. And while you can unlock these characters through crates and events, you'll have an easier time unlocking and leveling them up if you spend $9.99 to become a Passholder. That's right, Disney Sorcerer's Arena has a battle pass in it. Lasting a little over a month, you'll get extra rewards for going through it (the free version still lands you rewards), and you'll gain access to extra weekly quests. So if you are into the latest characters they feature in the the Passholder season, that's one way to get them.
Ultimately, if you're a Disney fan and you're into these types of games, it doesn't hurt to give Disney Sorcerer's Arena a shot.