Turtle Beach Recon 70 gaming headset review: Versatile & wallet-friendly
With a new design and quality of life features, Turtle Beach is ready for the PS5 and next-gen consoles with the Recon 70 wired gaming headset.
There's an obvious wariness around those looking to purchase a gaming headset months before a new console generation launches with the PS5 and Xbox Series X. I understand the hesitance. If you're going to drop some serious money on a headset, you don't want it to be irrelevant when you purchase your brand-new, next-gen console. Luckily, leading headset brands Astro and Turtle Beach, as well as Sony and Microsoft has assured gamers that their PS4 and Xbox One headsets will work with the PS5 and Xbox Series X consoles.
One of the first examples we saw of this was the announcement of Turtle Beach's Stealth 600 Gen 2 and Stealth 700 Gen 2 — a new design of wireless headsets for both current and future consoles priced roughly at $100 and $150. But what about those that prefer wired headsets? Or a gamer that doesn't want to drop $100 on a headset, but instead less than $50?
For gamers looking for a budget friendly, incredibly versatile, wired gaming headset, the Turtle Beach Recon 70 checks a lot of boxes.
Coming in at $39.95, the Turtle Beach Recon 70 gaming headset would fall into the category of budget headset, but don't let that be a negative term for you. Expectations need to be realistic at this price point, but this headset checks a lot of boxes for people that have multiple consoles.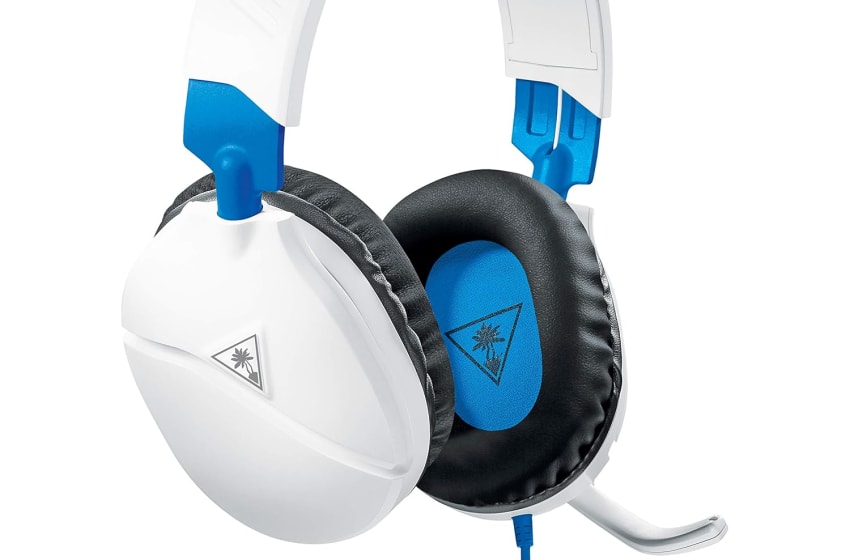 That's the number one plus with the Recon 70 for me — versatility. The Turtle Teach Recon 70 is a wired headset via 3.5mm cable. It will work with any platform that supports a headphone jack. That means that even though I reviewed the PS4 version, which is also marketed as PS4 / PS5, it will work with the Xbox One, Xbox Series X, mobile devices with a headphone jack, PC and the Nintendo Switch. In an age where its not uncommon to have multiple headsets to fit all of your different devices, this versatility is nice to have. That's especially true considering you won't have to worry about upgrading in a couple of months when the PS5 and Xbox Series X come out.
The rest of the headset is your good old standard, no frills headset. It's exactly what you'd expect for $40, but with a flip to mute mic and the sleek Turtle Beach design. Let me just tell you that on a $40 headset, I appreciate having a flip to mute mic when I have kids who are doing virtual learning from home half the day and being the maniac kids that they are the other half. A quick flip of the microphone can mute me from friends and teammates quickly instead of having to find the mute button on the cord. But that's where the added features of this price range end.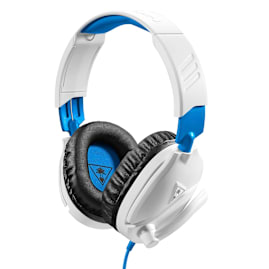 The design of the Recon 70 features the newer look of Turtle Beach headset, with that diagonal, slightly wavy line on the exterior of the ear cups, and the rest of the headset being a sleek, modern two-tone in color (white and blue in this case). It's a very lightweight headset thanks to its plastic build. Due to the lightness of the headset, I found it comfortable to wear for long periods of time. I even let my 6th grader wear it during virtual school for a day and he preferred it to the $50 headset we got at Target. There's a thin, leatherette headband cushion that is just thick enough to provide comfort, and the over-ear ear cups, while maybe a little too small for bigger ears, have a nice cushion to them. The build quality itself it pretty good for an all plastic headset. The earcups swivel and adjust to different head shapes and sizes, and they never felt close to snapping with applied pressure.
After testing the microphone extensively, I can say that this is a sensitive mic. It picks up quite a bit. Luckily with my son, a quick flip of the mic had him muted during school so he was only heard when he wanted to be heard. As for my gaming sessions, my squad heard me loud and clear (actually clearer than some official PlayStation $100+ wireless headsets). They did pick up my wife or kids when they would come stand next to me and talk, though.
The Recon 70 features two 40mm speakers, and please don't come into this expecting spatial and directional awareness from this headset. There's no virtual surround sound or anything of that nature. I have some hearing issues; I've ruptured my ear drums twice and often have to turn the TV or games up louder than normal to hear things at levels other people hear them. With this in mind, I wish the Turtle Beach Recon 70 got louder. I think it was just short of being at great volume level, and since this isn't noise canceling, a louder volume would've helped drown out some background noise.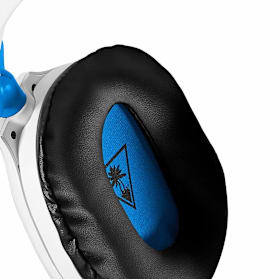 If you're an audiophile, which you probably aren't because why would you be looking at a $40 headset, you won't be blown away by the sound in this headset. The bass isn't as deep as you want it to be, but the highs are sharp, and the mids round it all out nicely so that if something (like an explosion or a bass riff) is supposed to be louder, it is. While the bass isn't as deep as I want, at no point did it provide a subpar listening experience. There was never any distortion either — everything was clear despite the hectic, congested sounds of Marvel's Avengers, listening to the Hamilton soundtrack or the 80's synth-sounding The Night Game on Spotify, or watching the newest episodes of The Boys Season 2.
If you're looking for premium sound with noise canceling or a metal build or wireless, you're going to have to spend more money on one of Turtle Beach's or a competitors other headsets. But for $40, this is a comfortable, get the job done headset that will work with every device you own so you don't have to drop a ton of money for your friends to hear you clearly or to keep your spouse from hearing the gunshots and explosions of your games.
I think the Turtle Beach Recon 70 gaming headset thrives as a dual purpose virtual schooling / gaming headset, as its perfect for my kids considering I'm not looking to spend $100+ on their headsets. Meanwhile, for adults on a budget, it's a good all-around headset that won't break the bank and won't have you regretting spending that $40. For this price range, the Turtle Beach Recon 70 is perfect.
Score: 7.5
A headset was provided to App Trigger for the purpose of this review. All scores are ranked out of 10, with .5 increments. Click here to learn more about our Review Policy.