Battlefield 2042 pre-order and special edition details; Open Beta confirmed
Battlefield 2042 made its explosive debut today and it certainly lived up to the expectations. While we unfortunately didn't get to see any gameplay, we did get some exciting details as well as a release date. We also got confirmation of a planned Open Beta.
Although we don't know when the Open Beta will launch, we do have some details as far as how you can guarantee yourself early access. And it's probably how you'd expect — pre-order the game or be an EA Play member.
If you opt to pre-order the game, there are three versions of Battlefield 2042 to choose from:
Battlefield 2042 for $69.99 on Xbox Series X|S and PS4 and $59.99 on Xbox One, PS4 and PC
Battlefield 2042 Gold Edition for $89.99 on PC and $99.99 on console
Battlefield 2042 Ultimate Edition for $109.99 on PC or $119.99 on console.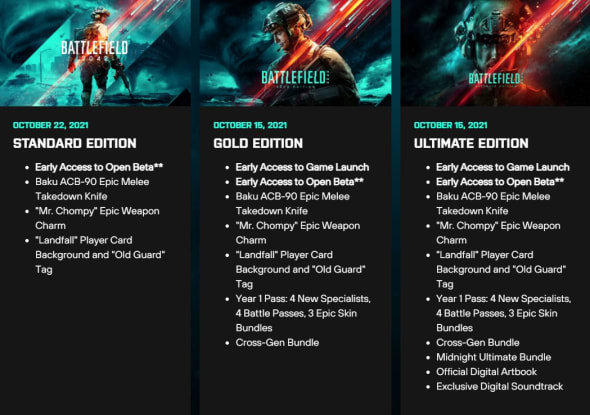 As you can see all three editions of Battlefield 2042 include early access to the Open Beta and even the standard edition has some additional pre-order bonuses. Of course, the Gold and Ultimate Edition offer way more, including the Year 1 Pass, which features 4 new Specialists, 4 Battle Passes and 3 Epic Skin Bundles. This confirms that Battlefield 2042 will have robust post-launch support, although I don't think that was ever in question.
As an Open Beta, you don't have to pre-order the game or be an EA Play member to gain access. All this does is guarantee you early access and, of course, all the aforementioned pre-order goodies.
As for when the Open Beta will arrive, Battlefield 2042 is slated to launch on October 22, 2021. If EA follows similar precedent to Battlefield 5's schedule, then we can expect the Open Beta for Battlefield 2042 to arrive in September.
We'll probably get more details on the beta at EA Play Live in July. Although we'll see actual Battlefield 2042 gameplay at E3 on June 13, it's likely EA will hold off on beta details until we get deeper into summer and closer to the game's launch.